Ecotrip around the Baltic Sea: Challenge Overcome in 67 Hours!
67 hours 21 minute. This is how much time it took travellers Vitoldas Milius and Audrius Sutkus to drive around the Baltic Sea. On the early morning of Wednesday, 6 July, the experienced drivers left Vilnius and got back to the Lithuanian capital on Saturday after midnight. They drove a Hyundai ix20 in turns and covered a 5 109 km distance non-stop.
However, the travellers tried not only to drive around the Baltic Sea as fast as they could, but also to use as little fuel as possible. During this ecotrip, the Hyundai ix20 car consumed 220 litres of diesel. The average fuel consumption of the 1.4 l diesel car was 4.3 l/100 km.
Impressions of the travellers after the trip around the Baltic Sea: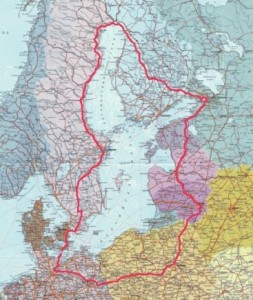 "I guess we could say the trip was altogether successful.  We smoothly crossed the Russian borders, we didn't wander from our way – and it's quite usual during trips to encounter road construction, long roundabouts and so on. Our drive was stable.
We drove around the Baltic Sea faster than planned. We decided this route could've been accomplished faster by 3-4 hours, but it's probably all we could've saved. On the other hand, we would've had to go all the way stopping only at petrol stations to get fuel, run to the WC, buy coffee and sandwiches and jump back in the car. It would make a cup of coffee outside the vehicle luxury. This time, we stopped for snacks, visited Audrius' friend in Sweden, which took us an hour. Going faster would've been really tough as, for instance, in Sweden they have speed cameras nearly every 2 km. I have no idea how many of them are operating but we didn't want to risk. Omitting the Russian border would've also saved time and we could've just driven. Speaking realistically, I can't imagine crossing the border faster than we did.
We have no reproaches to the car whatsoever; nevertheless, you'll agree it wasn't that big a challenge to its capacity: the distance was only 5 000 km and 95% of roads were very good. Hyundai marque has become much better than it's known for; the car resembles acknowledged Japanese brands. On the road, it was stable, silent, and fuel consumption very satisfying.
The fuel consumption was larger than we expected, though, as one can always achieve a better result than the producer claims, which I happened to prove during ecorallies in the past. However, going on such a trip, one shouldn't assume too many tasks; I have to admit, we didn't drive like we do in ecorallies – we took a normal pace, which definitely wasn't slower than you'd choose while travelling. In the end, we tried to go faster – I guess homesickness did the trick.
Route Accomplished by Travellers
In the end of the trip, we all agreed it felt longer, as if we'd have left at least a week ago. When you drive all the time, the day seems so long, and the polar night made the head spin from the very start – there was no actual night, only light all the time. It seems we travelled really long – St. Petersburg several days ago, Copenhagen yesterday – and no planes, just a car!
The Baltic Sea is not as huge as it looks on the map. We definitely suggest travelling around it, as there's plenty of beauty to see!