Crossing Half of Europe with Just € 100 Fuel Budget?
The crew of the members of the Lithuanian Autoclub of Journalists, Vitoldas Milius and Linas Barščevičius, covered 2 181 km from Vilnius to Geneva by a 1.6 l Skoda Octavia diesel from the Greenline series and used as little as 76.09 l of fuel. Average fuel consumption was 3.48 l/100 km.
The Greenline version differs from the standard model by fuel-saving systems, like Start/Stop system, braking energy recuperation system and gearshift prompter. According to the producer's specification, the average fuel consumption of the Octavia Greenline is 3.8 l/100 km.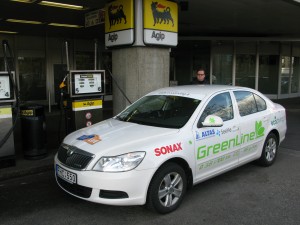 V. Milius and L. Barščevičius left Vilnius on Sunday, 12 pm, and reached Geneva exhibition hall, Palexpo, at 5.10 pm Lithuanian time, where an international car exhibition is about to start tomorrow, so the trip took approximately 29.5 hours. The travellers had to cover a 2 181 km distance, the average speed during the trip was 81 km/h. Following the plan, they stopped at a petrol station just once after driving 1 553 km; in Germany, the fuel tank was filled by 53.97 l of diesel.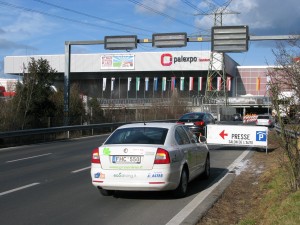 Having reached Geneva, the travellers drove straight to a petrol station and filled up the fuel tank (by 22.12 l) to find out the amount of diesel consumed during the journey. It appeared that 76.09 l diesel was enough for the route Vilnius – Geneva as the members of the Lithuanian Autoclub of Journalists drove on economy mode. So the average fuel consumption of the Skoda Octavia Greenline was 3.48 l/100 km, i. e. less than the 3.8 l/100 km average provided by the car producers.
"The fuel consumption increased a bit during the second half of the journey; we crossed more upland areas, stuck in traffic several times, so the average speed of the trip decreased as well. Nevertheless, the journey was definitely successful and we ourselves are surprised a car like Skoda Octavia managed to achieve 3.48 l/100 km fuel consumption", spoke the travellers after the finish.
A special SeeMe GPS fleet management and vehicle tracking system was installed in the car. With the help of the GPS receiver, telemetric equipment captured the car's location (coordinates) and its route every few seconds, while the data map was displayed in the internet portal, Delfi.lt.