Looking for Roads to Vorkuta
Inspiring Achievements
Every April, it's become quite usual not only for the fans of automotive sports and marathon trips to expect surprises from the famous car expert and sportsman, Vitoldas Milius.
In April, 2009, Vitoldas alone went on a so-far unique trip via all the states and capitals of the former USSR by VAZ 2109 car and covered 16 304 km within a record-beating time.
A year later, a confirmed loner, he drove a new Dacia Sandero Stepway from the westernmost European continental spot, Cabo da Roca city near Lisbon, Portugal, to the farthest South-East Russian spot in Vladivostok, the administrative centre of Primorye region, where he successfully finished after as few as 11 days and almost 16 hours and covered 15 200 km.
Mid November, 2011, V. Milius and his fellow travellers, Audrius Sutkus and Aidas Bubinas, held the flag of a new record, worth a line in the Guinness Book of Records, in Tarifa – the southernmost European continental spot. In 52 hours 20 minutes, they covered a 5 950 km distance from the northernmost European continental spot, Nordkapp (Northern Cape), Norway, till Tarifa. Although the unique trip had to be postponed due to Norwegian blizzards, the Lithuanian enthusiasts of marathon trips accomplished the task driving a Hyundai i40 and beat the British record dated 3 years back, when a Lexus IS300 drove the same route in 55 hours 40 minutes.
In the midst of April, Vitoldas was asked what challenges and destinations he's planned this time.
In Search for Non-Existing Roads
"I can't disappoint my friends and fans, so today, me and A. Sutkus are leaving to Vorkuta, which probably doesn't raise positive associations to most Lithuanians", at their send-off said V. Milius, the initiator of yet another unique trip. "We have a 4 000 km route ahead of us, which we'll conquer with the help of the off-road giant, Toyota  Hilux 7C 2.5 D-4D 4WD Double Cab."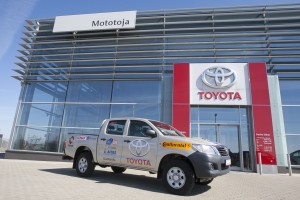 The distance of the route or the chosen vehicle does not surprise anyone. This time, the greatest challenge for the Lithuanians, leaving Moscow behind and approaching Inta and Vorkuta, lies in finding roads in areas where there aren't any roads to speak of. And really: more than a 1 000 km before the journey's end, no maps or navigation equipment show any road to Vorkuta whatsoever.
So how is it possible to accomplish the task, even by the SUV of exceptionally high passing ability?
"Our only hope lies in what the Russians call "lednik", the ice road, which is pretty reliable in winter and hopelessly vanishing with the first rays of the spring sun", says V. Milius. "Therefore, we value each day, each hour, though on Easter, there were seemingly "safe" -27 degrees in Vorkuta. That's above the polar circle; closer, it is warmer. We shouldn't forget we'll have to take the same "road" back home."
It is the reason the travellers hurry to Moscow as soon as they can; then via Syktyvkar and Inta, making their way towards the easternmost European location nearby Vorkuta, in the Ural Mountains, which is accessible only on foot. The Lithuanians don't plan to leave a flag there but they will definitely feel victorious if they reach Vorkuta.
Tundra – Queen of the Land
Vorkuta city is in the North of the European part of Russia, near the Northern Ural Mountains. For hundreds of kilometres, there's tundra, swamps and rivers. Beside Vorkuta, the land disappears in the North; beyond it there's the vast Arctic Ocean. Vorkuta is quite remote from all possible centres of civilisation and is accessible one-way only via railway or planes.
Anywhere you look, tundra – the queen of the land – is all around. Throughout long-lasting winters, -20-30 degree temperature is usual there, at times dropping as low as -40 degrees, although it happens to drop to -50-55 degrees below zero.
Vorkuta is the largest city in the world beyond the North polar circle (160 km away from it), with the population of approximately 85 000. Vorkuta is quite known worldwide. That name has etched in the memory of numerous people as the synonym of the worst humiliation, unbearable torture and death. Not incidentally, Vorkuta raises associations with prisons, forced labour camps, dying, pain and exhausting work in coal mines. That geographical spot was marked with evil. Vorkuta was long surrounded by coal mines, built entirely by prisoners' hands. The name of that city has become the metaphor of GULAG.
Will Race with Train
"Although there are no roads to Vorkuta, that city has been accessed by cars, specially prepared for such a trip", said the departing travellers in a today's press conference. "That's why we'll try to reach the northernmost location in Europe by the serial Toyota Hilux 7C 2.5 D-4D 4WD Double Cab which has special tyres provided by the supporters of such trips, Continental tyre producers."
Though V. Milius usually plans neither detailed routes, nor shorter or longer rest breaks during such trips, this time he spilled out a secret about his intention to race with… a train.
In the traveller's words, together with A. Sutkus, he will try to start from Moscow at the same time with a train leaving for Vorkuta.
There's little hope to outrun a railway train going on a special schedule, especially when there's no actual road and the only saviour is "lednik", the ice road; however, the travellers are sure the competitive element is vital on every trip, every journey. It encourages not giving up and gives strength when you need it the most.
Prepared by: Public Relations Agency Visus Bonus