International Off Road Film festival 2014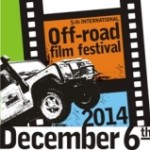 International "Off Road Film festival" is a non-traditional event introducing the impressions of an ever-growing circle of road aficionados which they have experienced in sport-utility vehicles (SUV), or on motorcycles or ATVs in off-road tracks. This event is dedicated not only to professionals who have treated off-road driving as their favourite kind of sports or tourism for many years. It will also be an interesting show to all those who find an off-road driving a good leisure activity even if they are only watching the action from the roadside.
"It is a unique event as it is the only contest of off road-themed films and videos in the whole Europe or even in the World. The organizers of the festival are only familiar with cases when one or two authors' footages were demonstrated immediately after the race. Meanwhile, time was not generally available for the high-quality film review," said Audrius Sutkus, the concept author of "Off Road Film Festival", traveler, driving instructor 4х4 and  President of Panevėžys Off Road Club.
"Off Road Film Festival" has already taken place in Panevėžys (2004, 2005) and in Vilnius (2007, 2012). In 2007 festival moved to Vilnius, the capital of Lithuania, where participants not only showed class at increased artistic level, but also demonstrated original theme revealing abilities. The last 2012 years festival already welcomed 17 participants, including representatives from  Lithuania, Latvia, Russia Poland and Estonia.